David Spohn
Statement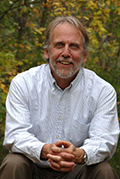 My goal as an artist is to communicate the healing power in the beauty of our natural world by creating art that helps people connect with this world in whatever environment they live. This connection is available to all of us when we learn to focus on the world as it is under our feet, right in front of our eyes. By seeing the simple beauty around us, we take the first steps toward a better world.
Biography
I have spent my life drawing. Growing up in Chicago in a family of writers, editors and educators, my art gravitated naturally toward books. My life's work has taken me from the Midwest to the West Coast and finally to Minnesota, with most of this time spent designing, illustrating and writing books, and working at printmaking in my home studio as well.
I worked for thirty-one years as the art director for Hazelden Publishing. I also wrote and illustrated several children's books of my own, and illustrated many others. Now I am concentrating primarily on printmaking.
In creating books and creating fine art prints, my work has always involved printing in one form or another. The common thread is that art for books and art as printmaking both involve drawing at the heart of the matter. Both end up in the publication of editions; both involve making art to be shared.
David Spohn
27930 Quarry Road
Lindstrom, MN 55045
651.257.4488
spohnhouse@frontiernet.net